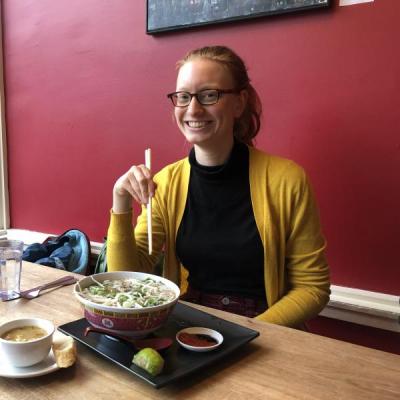 PhD Student
FYW Instructor of Record
Contact Info
Office Hours:
Spring 2020: via Zoom, please email for an appointment
I am a 2nd year doctoral student specializing in 19th century British literature, usually late Victorian novels or novels written by women. I have done work on the afterlives of Victorian literature and people in YouTube web series, and have most recently become interested in 19th century Wales and periodical studies. I also plan to complete UGA's Graduate Certificate in Women's Studies.
In the last year, I have presented the following papers: "Amy Levy's The Romance of a Shop, Virginia Woolf's Party Consciousness, and the Oblique, Feminine Perspective" at the British Women Writers Conference (March 2020); "Middlemarch on YouTube: Shifts in Narrative Style and Narrative Voices" at the George Eliot International Bi-centenary conference (July 2019); and "Victorian Literature on YouTube: Issues of Genre and Audience Expectations" at the NAVSA annual conference (Oct. 2019). I have also presented papers at the Victorians Institute annual conference, the BAVS annual conference, the Midwestern Conference on Literature, Language and Media, and the Pop Culture Association's national conference.
Education:
M.A., Oregon State University, 2017.
Graduate Certificate in College and University Teaching, Oregon State University, 2017.
B.A., Carleton College, 2012. Magna cum laude.