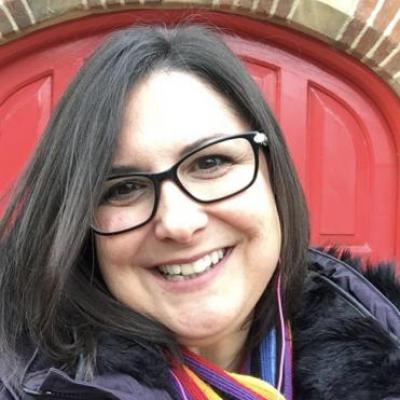 Graduate Teaching Assistant
Holly Simpson Fling is a PhD Candidate. She is studying Romantic and Victorian literature and finishing a Women's Studies Graduate Certificate. In her dissertation, Holly traces Lewis Carroll's looking-glass into Virginia Woolf's work, and then she reads nineteenth-century women-written fiction through Woolf's adaptation of the looking-glass to call attention to the dissolution of boundaries between time and space, and between subject and object. Holly is working under the direction of Dr. Tricia Lootens and is also supported by committee members Dr. Richard Menke and Dr. Roxanne Eberle.
Holly has a book chapter, "Passing Racial Connections in 'Time Space': A Chronotopic Approach to James Weldon Johnson's The Autobiography of an Ex-Colored Man," in Critical Insights: Harlem Renaissance. In this chapter she explores James Weldon Johnson's text through M.M. Bakhtin's theory of the chronotope to reveal how seemingly disparate 19th-century racial issues are part of an interconnected vocalization of the South and expressed through the metonym of passing. 
Holly was on the steering committee for the 2016 Eighteenth- and Nineteenth-Century British Women's Writing conference, which was held in Athens, Georgia.
She was also a graduate assistant for the UGA at Oxford Program during the summer and fall of 2016, and she will serve again in the spring of 2081. While in Oxford, she studied under Dr. Stefano Evangelista of Trinity College. During the fall term 2016, Holly won a Graduate Student Research Award from the Willson Center, which she used to further her research while in England with the UGA at Oxford Program. 
Education:
PhD, English (expected completion May 2018), University of Georgia, Athens, Georgia
MA, English (May 2013), Truman State University, Kirksville, Missouri
BA, English (May 2011), Truman State University, Kirksville, Missouri
AA, (May 2008), Moberly Area Community College, Kirksville, Missouri
Research

Research Interests:

While Holly's PhD research centers on Romantic, Victorian, and twentieth-century British literature, as well as feminism, new materialism, and space and time, during her master's program, she worked with postcolonial literature, primarily Irish and South Asian. 
Selected Publications

Selected Publications:

"Passing Racial Connections in 'Time Space': A Chronotopic Approach to James Weldon Johnson's The Autobiography of an Ex-Colored Man," published in Critical Insights: Harlem Renaissance by Salem Press