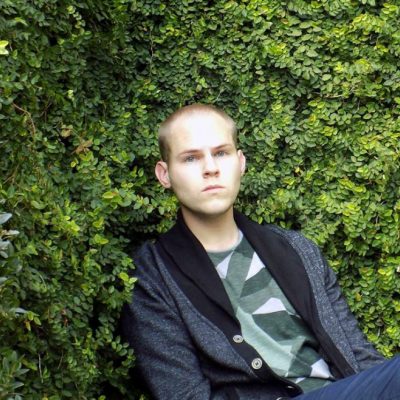 Graduate Teaching Assistant
Paul Cunningham is from Pittsburgh, Pennsylvania. He has authored four poetry chapbooks: Metro-Goldwyn-Mayer (Pangur Ban Party, 2010), foamghast (NAP Books, 2012), Goal/Tender Meat/Tender (horse less press, 2015), and The Inmost (forthcoming 2020). From the Swedish, he is the translator of Helena Österlund's Words (OOMPH! Press, 2019). He has also translated two chapbooks by Swedish author, playwright, and video artist, Sara Tuss Efrik: Automanias: Selected Poems (Goodmorning Menagerie, 2016) and The Night's Belly (Toad Press, 2016). His translations have most recently appeared in Exchanges, EuropeNow, Interim, Asymptote, and Sink Review. 
His original writing has appeared in The Academy of American Poets' Poem-a-Day, Quarterly West, OmniVerse, SAND: Berlin's English Literary Journal, Yalobusha Review, Fireflies Film Magazine, DIAGRAM, Bat City Review, Gigantic Sequins, glitterMOB, Spork, LIT: The Journal of The New School, Tarpaulin Sky, Smoking Glue Gun, The Volta, Cloud Rodeo, DREGINALD, Witness, and others. His book reviews have appeared in Kenyon Review, Heavy Feather Review, Fanzine, DIAGRAM, and Entropy. With artist Sam Shoemaker, he completed Evidence from Lunar Rocks, a 7x7.la collaboration. In 2018, Sarah E. Brook selected one of his poems to be featured in "Viewfinding," a public sculpture located in Manhattan's Riverside Park. In 2019, he collaborated with artist Chris Xavier on an interpretation of "Feast Green and Stained."
He founded Radioactive Moat Press in 2009 and the online journal Deluge in 2012. With Jake Syersak, he currently co-edits a micro-press called Radioactive Cloud (a collaborative effort between Cloud Rodeo and Radioactive Moat Press). He served as co-editor of Slippery Rock University's sixth issue of SLAB, which was awarded the AWP National Director's Prize for Undergraduate Literary Magazines in the Category of Content. He formerly worked as an editorial assistant for Action Books and as a co-editor for Action, Yes. He has also served as a judge for The Scholastic Art & Writing Awards, a recognition program for creative teens in grades 7-12.
His short film It Is Announced (a collaboration with poet/painter Valerie Mejer Caso and photographer Barry Shapiro) premiered in the 2016 Kochi-Muziris Biennale. Other poem-films have appeared in the MAKE Magazine Lit & Luz Festival, Seattle's INCA (The Institute for New Connotative Action), the Museo Universitario del Chopo in Mexico City, and Kastratet (kastratet.se). He is a Princeton University INCH scholar (International Network for Comparative Studies) and he holds a M.F.A. in Poetry from the University of Notre Dame.
Recent scholarly activity:
"Visualizing Prose Poetry: Landscape, Dream Machines, and Transformation," 2020 NOLA Poetry Festival
"Crypto-Poiesis: Reimagining the Real through the Non-Human," 2018 &Now Conference, University of Notre Dame
"Toad Press International Chapbook Series Celebrates 15 Years of Translation," 2018 AWP Conference
"We Are Still Here: The Future of Horror in Contemporary Poetics," 2017 NOLA Poetry Festival
Recent public screenings and lectures:
Terminator 2: Judgment Day (1991)
Education:
M.F.A., Poetry (2015) University of Notre Dame
B.A., English (2011) Slippery Rock University
Research

Research Interests:

Creative Writing

Translation Studies

Ecocriticism

Victorian Studies 

Posthumanism
Selected Publications