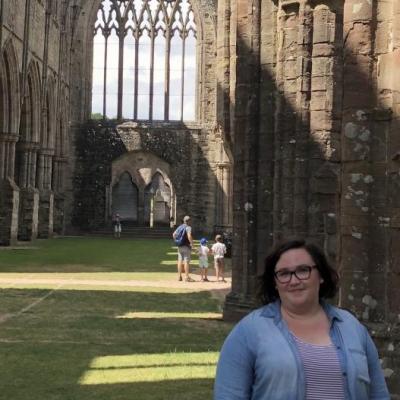 Graduate Teaching Assistant
Renee Buesking is a PhD candidate focusing in Romanticism and the long nineteenth century. She completed her MA at Lehigh University and wrote her MA thesis on Keats's long poem "The Eve of St. Agnes." Her dissertation, "Charlotte Smith's Lyric Forms" examines Smith's poetry and novels and argues, in part, for a new genealogy of the lyric genre which acknowledges Smith as a foundational figure. 
Renee has recently presented on Smith's apostrophe sonnets at BWWC in Auburn, AL, Letitia Landon's exploration of multi-voiced subjectivity at ICR in Greenville, SC, depictions of Scottish landscape and identity at SAMLA in Raleigh, NC, on Letitia Landon's creation of a network of female readership at BWWC in Athens, Georgia, and on the narrative network of female characters in Jane Eyre at VIC in 2017. 
Education:
M.A, Lehigh University, 2014 
B.A., Shippensburg University of Pennsylvania, 2011
Of note:
2019: Alice C. Langdale Award, Department of English, University of Georgia
2018-2020: The Mary Lynn Oliver Hunt and Matthew Alan Hunt Graduate Studies Fellowship in English, University of Georgia
2018 - Outstanding Teaching Assistant, University of Georgia