Image: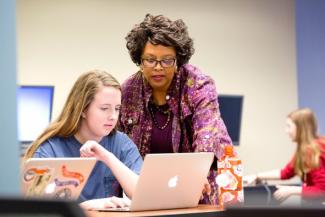 Barbara McCaskill's parents grew up in the segregated South under Jim Crow laws.
They knew the value of an education and wanted their children to take advantage of the opportunities they were afforded as a result of the civil rights movement, so they instilled the value of history, literature and education in their children, something McCaskill credits for her 25-year career at UGA.
"I wanted to pursue a career interest that aligns with my love of history, literature and culture but also gave me an opportunity to make a real difference in terms of opportunities for people of color and to be transformative in what I do," said McCaskill, a professor of English in UGA's Franklin College of Arts and Sciences and one of the key forces behind developing the department's multicultural American literature curriculum. "I'm very keen on being able to keep doors open for others to come behind me, and I've found that I've been able to do much mentoring so that we can have more diversity in academia."
Read the full article by Leigh Beeson at http://columns.uga.edu/news/article/franklin-college-professor-promotes-importance-of-diversity-in-academia/