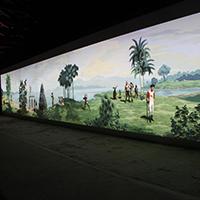 Robert Batchelor
Georgia Southern
The Willson Center Digital Humanities Lab, Main Library
A number of contemporary digital media works, such as Lisa Reihana's installation "In Pursuit of Venus [infected]/Emissaries" (2015-2017) and Tracy Fullerton's video game "Walden" (2017), have returned to panoramic strategies of representation to reimagine totalizing and seemingly transcendent concepts like empire and nature. Reihana's and Fullerton's approaches are partially archival, drawing directly on printed works produced during the late eighteenth and nineteenth centuries and highlighting the uncertain line between virtual worlds and augmented archives. Both look back to a precise historical period (the 1770's-1850's), typically associated with urban, industrial and political revolutions in the Atlantic as well as dramatic changes in visual technology connected to these, including the invention of the panorama itself (1787-92). Fullerton's recreation of Thoreau's Concord and Walden Pond is more classical, virtual and even cinematic, a paradoxically technological transcendentalism of play focused on the observing subject. Conversely, Reihana's more explicitly panoramic work about the Cook expeditions, which emerges from 'Polynesian' Auckland, suggests in its layers and reenactments a more distributed and indeed augmented agency in the Pacific when compared with the 'Atlantic World.'
Why Walden pond might appear more virtual and a Pacific island more augmented can be better understood by returning to the archives of two print-age Pacific expeditions by James Cook and George Macartney. Both men ostensibly failed in their imperial tasks, and yet the printed journals and engravings of the expeditions, including the French wallpaper that Reihana draws upon, became fundamental to new conceptions of nature and empire in the late eighteenth century. Such media objects indicate the use of a more consciously panoramic approach to counter anxiety over erratic failures of mastery and masculinity in a revolutionary age. At the same time, material objects (taonga/taoa) brought back to London from the Pacific like the Tahitian mourner's costume from the three Cook voyages (1769-1779) as well as the Macartney tapestry and collection of gifts from his embassy to Beijing (1793) could belie optimistic visions of empire and prove resistant panoramic strategies of synthesis. Key to the power of Reihana's and Fullerton's interventions is their use of archival strategies that return the participant to the disjunctions of the revolutionary panoramic, highlighting the uneasy relation between a totalizing technoscientific optimism and the archive.
Robert Batchelor is professor of history and director of digital humanities at Georgia Southern University.  He is the author of London: The Selden Map and the Making of a Global City, 1549-1689 (Chicago, 2014).  With Sari Gilbert, he created the board game Fujian Trader (2016) based on his discovery of the Selden Map of China.  He is currently working on several projects related to maritime and ocean history.
The Georgia Colloquium in Eighteenth- and Nineteenth-Century British Literature is supported by the Willson Center for Humanities and Arts and by the English Department's Rodney Baine Lecture Fund. UGA's History Department is a co-sponsor of Dr. Batchelor's lecture, which is free and open to the public.