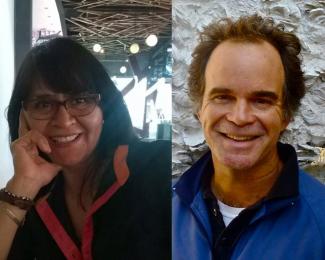 265 Park Hall
Fifth Annual Barbara Methvin Lecture:
"'Engulfed in the Fiesta': Reading Our Souths and the Gulf at the Rhythm of Maracas in the Time of Trump"
A joint lecture by Professors Keith Cartwright and Dolores Flores-Silva
Keith Cartwright is Professor of English at the University of North Florida, where he specializes in African, African American, Southern and Caribbean literatures and cultures.  He is the author of Reading Africa into American Literature: Epics, Fables, and Gothic Tales (University of Kentucky Press, 2002), and Sacral Grooves, Limbo Gateways: Travels in Deep Southern Time, Circum-Caribbean Space, Afro-creole Authority (University of Georgia Press, 2013), which won the Hugh Holman Award for the best book published in Southern Studies in 2013.
Dolores Flores-Silva is Associate Professor of Spanish at Roanoke College.  She has published widely on Latino and Spanish literature, including work on Rosario Ferré, Vicente Medina, and Federico García Lorca.   She has also written on ethnic poets of the United States, most recently  the African American writer Brenda Marie Osbey. 
Cartwright and Flores Silva are currently collaborating on a new book on the connections between the cultures of the U.S. South and Mexico. 
Free and open to the public