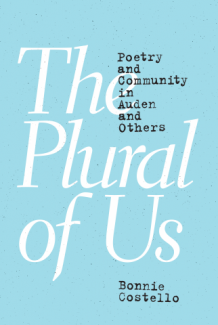 The Robert West Library, Park Hall 261
Professor Costello will discuss her essay titled "Collecting Ourselves: 'We' in Wallace Stevens," which builds on her recently published monograph, The Plural of Us: Poetry and Community in Auden and Others (Princeton UP 2017), on modernist poetry's use of the collective pronoun.
Professor Costello is William Fairfield Warren Distinguished Professor (Emeritus) of English at Boston University, and a renowned scholar of twentieth-century Anglo-American poetry. She has been especially interested in visual thinking and intersections between literature and visual arts. Her books on Marianne Moore (1981) and Elizabeth Bishop (1991) were among the first full critical studies of these poets and her edition of The Selected Letters of Marianne Moore opened up a new window into the history of modernism. Other poets she has often written about include: Wallace Stevens, Robert Frost, W.H. Auden, John Ashbery, Charles Wright, A. R. Ammons, Amy Clampitt and Jorie Graham. In her recent books she has explored landscape and environmental poetry (Shifting Ground [2003]), and the interplay of private and public spheres in still life motifs (Planets on Tables [2008]). In addition to her academic books and articles, she has occasionally published literary essays on art, travel and memory.
Dr. Costello's talk is sponsored by the Interdisciplinary Modernism(s) Workshop and the English Department Lecture Fund.
The essay to be discussed in the workshop will be circulated in advance. Contact Susan Rosenbaum (srosenb@uga.edu) to receive a copy of the essay