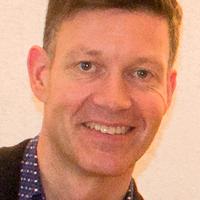 Special Collections Library, Room 277
Jean-Christophe Mayer is a Research Professor employed by the French National Centre for Scientific Research (CNRS). He is also a member of the Institute for Research on the Renaissance, the Neo-classical Age and the Enlightenment (IRCL) at Université Paul Valéry, Montpellier. His latest monograph is entitled Shakespeare's Early Readers: A Cultural History from 1590 to 1800 (Cambridge: Cambridge University Press, 2018). Since 2017, he is an expert for the European Commission in the field of humanities.  
This talk will  on Shakespeare's King Henry V as a linguistically conflicted piece of writing that "anatomises the concept of nationhood." Dr. Mayer will focus on two scenes in his talk – the scene almost entirely in French (3.5.), during which Princess Katherine of France tries to learn a few rudiments of English from her servant Alice, and the wooing scene between Henry V and the Princess where Alice acts partly as an interpreter between the two (5.2) – exploit and expose linguistic and cultural faultlines. Both scenes encapsulate many of the issues of the play at large. Moreover, while questioning the idea of foreignness through specific linguistic interplay, they challenge the very notion of Shakespearean scenic division in theatrically productive ways. 
A plenary lecture for the Scenes in the Other's Language conferece, this talk is sponsored by Georgia Humanities, the FACE Foundation, University of Georgia, CNRS, IRCL, Université Paul-Valéry Montpellier 3, and the Willson Center for Humanities & Arts. All events are free and open to the public.