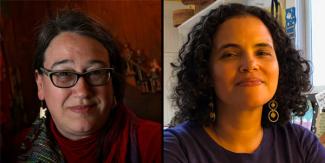 Ciné (234 W Hancock Ave, Athens, GA 30601)
Heid Erdrich, a member of the Turtle Mountain Band of Ojibway and award winning poet, along with poet Josina Guess, will read at UGA, Tuesday, March 5th from 7-9 p.m. at Ciné, 234 W Hancock Ave, Athens, GA 30601. 
Erdrich is the author of five collections of poetry, most recently Curator of Ephemera at the New Museum for Archaic Media from Michigan State University Press.  She's also the editor of two anthologies of literature by Native writers including NEW POETS OF NATIVE NATIONS form Graywolf Press. Her recent non-fiction book is Original Local: Indigenous Foods, Stories and Recipes. Erdrich' s awards include a Native Arts and Culture Foundation, Loft Literary Center, Minnesota State Arts Board, Minnesota Book Award, and more.  She teaches in the low-residency MFA Creative Writing program of Augsburg College.
Guess writes poetry, essays and reviews that explore intersections of faith, race, family and home rooted in the rural and urban landscapes of her life and memory.  Her recent work as appeared in The Christian Century, Crop Stories, Communities, Sojourners, and Geez Magazine.  She has two poems in the Anthology Fight Evil with Poetry Volume 1 edited by Micah Bournes and Chris Cambell. Her essay "Putting Our Lives on the Line" is in The Wisdom of Communities Volume 4: Sustainability in Community.  She is also a contributor to the forthcoming Rally: Litanies for the Lovers of God and Neighbor Upper Room Press 2019.
This event is made possible by the Department of Language and Literacy Education in the University of Georgia College of Education, the Eidson Distinguished Professor in American Literature LeAnne Howe, and the Willson Center for Humanities & Arts. This reading is part of a series of events: This is (Not) What I Expected: Difference and Dignity Through Literature and the Arts, a series of events centered around and inspired by 'Citizen' by Claudia Rankine.  Click here to see a full list of programming.