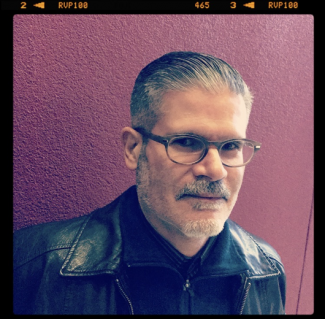 Ciné (234 W Hancock Ave, Athens, GA 30601)
The Willson Center welcomes Distinguished Lecturer Roberto Tejada, Professor of Creative Writing and Art History at the University of Houston. Co-hosted by the Lamar Dodd School of Art, College of Environment + Design, and Creative Writing Program, Tejada will present images and narratives that relate a transnational/translational poetics engaging the visual and language arts of 1960-1970s Pop as connected to media and urbanism in Mexico, Brazil, and the Chicano/a U.S. Southwest.  This reading at Ciné will be free and open to the public.
Tejada is the author of art histories that include National Camera: Photography and Mexico's Image Environment (2009); a monograph on pioneering Chicana conceptual artist Celia Alvarez Muñoz (2009), and such catalog essays as "Los Angeles Snapshots" in Now Dig This!: Art and Black Los Angeles, 1960-1980 (Hammer Museum, 2011); as well as poetry collections that include Full Foreground (2012), Exposition Park (2010), Mirrors for Gold (2006), and Todo en el ahora (2015). He founded and co-edited the journal Mandorla: New Writing from the Americas, a multilingual annual of poetry and translation (1991-2014). His poetry and creative research develop the relationship between sight, display, public speech, and spectacle; he is at work on a trans-American project that examines specific art scenes of 1960s-1970s Los Angeles, 1980s-1990s Mexico City, and present-day São Paulo. He is the Hugh Roy and Lillie Cranz Cullen Distinguished Professor in Creative Writing and Art History at the University of Houston. 
Please see the Lamar Dodd School of Arts website for a full list of Tejada's events.