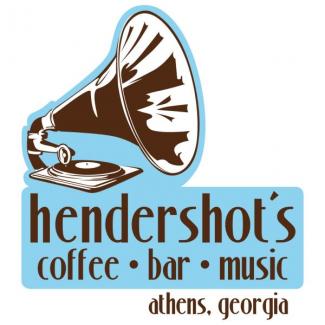 Hendershots Coffee (237 Prince Ave, Athens, GA 30601)
Three new plays written by English Department graduate students and performed by UGA actors from the theater department were staged at Hendershots Coffee, 237 Prince Ave, Athens, GA 30601 on Friday, November 30, 4-7 p.m.  The new plays were written by Genevieve Arlie, Johanna Bailie, and Aviva Kasowski. Actors reading from the new scripts were graduate students David Cowan, Jake Hunsbusher, Brooke McCarthy and T Lynn Mikeska.
More about the writers:
Genevieve Arlie is a dog lover and tree hugger from California. She holds literature degrees from Stanford, Columbia, and the University of Iowa, where she was an Arts Fellow in translation. She's now a PhD student in English–creative writing and Presidential Fellow at the University of Georgia. In a more glamorous life she would've been a ballet dancer, but aspiring playwright feels pretty close.
Johanna Bailie, a first year English masters student, she has a bachelor's degree from UGA where she studied English, History, and Philosophy. As a Masters student, she will be working on a thesis concerning the roles of poetic folklore in children's literature. 
Aviva Kasowski is a poet and fiction writer who received her MFA from the University of California, Riverside, where she received a Chancellor's Fellowship of Distinction.  Her writing has appeared in Ninth Letter, Spillway Magazine, Cancer Poetry Project Anthology and others.  She is a former work-study scholar at the Bread Loaf Writer's Conference and was a poetry resident at Art Farm, Nebraska.  Currently a PhD student in English and Creative Writing at UGA, she also performs aerial arts and is working with a dancer on a multi-genre performance piece.     
More about the actors:
David Cowan began his theater career in his hometown of Boise Idaho. There he received his BA in performance from Boise State University. He played Vershinin in Three Sisters, Ulysses inTroilus and Cressida and Jules in Boom. Upon graduation he moved to LA and received a film acting certificate from the Stella Adler Acting Studio. https://www.imdb.com/DAVIDJCOWAN.
Jake Hunsbusher is a candidate for a Theater MFA in dramatic media. Being a playwright himself, he is excited to help realize these plays by lending his voice to several characters in this reading. He is also grateful for the opportunity to work with these talented writers and further hone his voice acting ability.
Brooke McCarthy is currently pursuing her MFA in Acting at UGA where she recently performed in Revolt. She said. Revolt again. Brooke is from NJ via Philly and has recently performed with The Broadway Theatre of Pitman as the Wicked Witch (Shrek), Model (Can-Can), and ensemble in the world premiere of Return of the Phantom. Recent Acting Apprentice for Theatre with a View and previous company member of the Philly Improv Theater. www.brookemccarthy.com.
T. Lynn Mikeska is an actor, writer, filmmaker and musician who is currently pursuing her MFA in acting at The University Of Georgia. Recent past credits include Revolt, She Said. Revolt Again with UGA Theatre and Booth's Richard III with The Hidden Room, where she played Lady Anne.