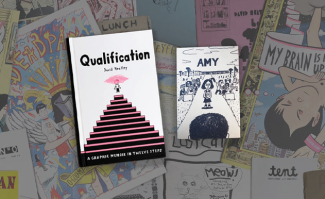 Ciné Lab, 234 W. Hancock Ave, Athens, GA
Comics creator David Heatley presents his new work Qualification, an astounding graphic memoir about addiction to twelve-step programs. Following his own life from early childhood through adulthood, step after step, (after step . . .), Heatley offers readers an intimate look at his own struggles and at the pleasures, perils, and complexities of the recovery process. Sponsored by the Department of English's Creative Writing Program and by the Department of Philosophy. Books on hand will be supplied by Bizarro-Wuxtry in downtown Athens.
Discussion and Q&A with the author facilitated by Chris Pizzino, UGA Department of English, and Aaron Meskin, UGA Department of Philosophy.