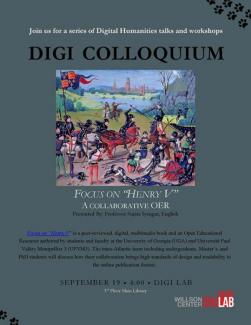 Sujata Iyengar
English
UGA
DigiLab, 3rd floor Main Library
The Digi Colloquium presents a discussion and book launch: "Focus on Henry V:  A Collaborative OER"
Professor Sujata Iyengar, Department of English, University of Georgia, teaches classes on English Renaissance Literature, Shakespearean Appropriation, Digital Publishing, and Book History at the University of Georgia.
This event launches Focus on "Henry V," a peer-reviewed, digital, multimedia book and an Open Educational Resource authored by students and faculty at the University of Georgia (UGA) and Université Paul Valéry Montpellier 3 (UPVM3). The trans-Atlantic team including undergraduate, Master's, and PhD students will discuss how their collaboration brings high standards of design and readability to the online publication format.
Sponsored by the DigiLab (UGA Libraries and the Willson Center)
http://scalar.usc.edu/works/henry-v/index