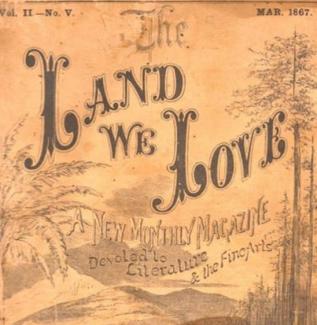 Doug Hale Lecture Hall, Park 265
The Leighton M. Ballew Lecture Series presents Kathleen Diffley, "Old Times There: Civil War Stories, Charlotte's The Land We Love, and the Lost Cause as Postmemory" 
Kathleen Diffley is Associate Professor of English at the University of Iowa and Director of the Civil War Caucus at the M/MLA.  Author of Where My Heart Is Turning Ever: Civil War Stories and Constitution Reform, 1861-1876 (Georgia, 1992), she has also edited To Live and Die: Collected Stories of the Civil War, 1861-1876 (Duke, 2002) and Witness to Reconstruction: Constance Fenimore Woolson and the Postbellum South, 1873-1894 (Mississippi, 2011).  She is delighted to add that she has co-edited with Benjamin Fagan a new essay collection, Visions of Glory: The Civil War in Word and Image, that includes contributions from Cody Marrs and Barbara McCaskill, doubtless the reason why the book is forthcoming from the University of Georgia Press.  She has held fellowships from the National Endowment for the Humanities, the Howard Foundation, the University of Iowa, and Iowa's Obermann Center for Advanced Studies.  Her work has appeared in American Literary History, Comparative American Studies, American Quarterly, American Periodicals, Prospects, and seven collections of essays.  This afternoon, her remarks have been drawn from The Fateful Lightning: Civil War Stories and the Literary Marketplace, 1861-1876, which is now under contract.