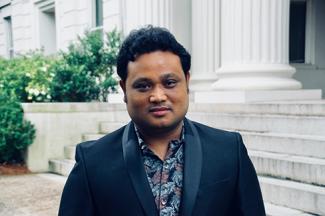 ZOOM
Professor Aruni Kashyap, with writer Inez Tan, will take part in Singapore Unbound's Second Saturdays Reading Series on Saturday, Nov. 14th, 7:30 p.m. on Zoom.  RSVP Jee at  jkoh@singaporeunbound.org for Zoom link.
His Father's Disease: Stories by Aruni Kashyap
At a conference in Delhi, Assamese writer Sanjib reimagines the enduring fable of Tejimola, the girl who sprouted leaves. But the English language literati don't understand why he doesn't write about the insurgency. With the very first story in this unusual and unapologetic collection, Aruni Kashyap sets the tone for an intimate exploration of a terrain that is both familiar and alien. In the spirit of modern post-colonial storytellers like Chimamanda Ngozi Adichie and Daniyal Mueenuddin, his stories press the silences of the village and the nascent city to reveal their secrets. The result is a frank appraisal of our hypocrisies and desires, hopes and defeats—the stuff of the stuff we carry within us.
Inez Tan is the author of This Is Where I Won't Be Alone: Stories, a national bestseller in Singapore. A recent Kundiman fellow, she holds an MFA in fiction from the University of Michigan and an MFA in poetry at the University of California, Irvine, where she teaches creative writing.
This Is Where I Won't Be Alone: Stories by Inez Tan
A pair of twins tries desperately to survive their education. A sentient oyster ponders the concept of making time. An unemployed man devises a social experiment with ants. A runaway sees a vision. From the 1990s to a future where people access information through chips implanted in their heads, from the Singaporean heartland to London, San Francisco and the moon, these stories hold in tension the strangeness of displacement and a deep yearning for connection in their relentless search for who and what to call home.  "Hilarious and heartbreaking about home."—Jim Shepard