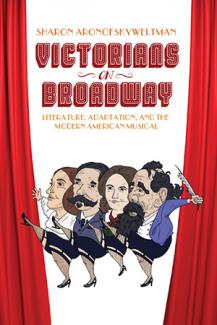 Park Hall 265
The UGA English Department's Ballew Lecture Series presents "Victorians on Broadway: Melodrama and Gender Performance in Jekyll and Hyde," a talk by Dr. Sharon Aronofsky Weltman, the William E. "Bud" Davis Alumni Professor at Louisiana State University.
A specialist in nineteenth-century British literature and culture with approximately 70 publications in print, forthcoming, or under contract, her current research branches into two areas: Dickens, performance, and ethical embodiment; and nineteenth century women playwrights, especially the first Anglo-Jewish woman melodramatist, Elizabeth Polack. Her third book, VICTORIANS ON BROADWAY: LITERATURE, ADAPTATION, AND THE MODERN AMERICAN MUSICAL, is forthcoming from the University Virginia Press this June. It examines Broadway musicals such as One Touch of Venus, Oliver!, Sweeney Todd, Goblin Market, and the Victorian works from which they are adapted. Her published books are Performing the Victorian: John Ruskin and Identity in Theater, Science, and Education (2007) and Ruskin's Mythic Queen Gender Subversion on Victorian Culture (1999).
Immediate past-president of INCS (Interdisciplinary Nineteenth-Century Studies), she serves on the Board of the Dickens Project, NINETEENTH-CENTURY STUDIES, NINETEENTH-CENTURY CONTEXTS, and Oxford University Press Bibliographies Online. She became the North American Editor of NINETEENTH CENTURY THEATRE AND FILM in 2015. In addition to English, she is on the faculties of Women's and Gender Studies, Screen Arts, Jewish Studies, and also directs LSU's Comparative Literature program.
This lecture is generously sponsored by the English Department's Ballew Lecture Series, Sterling Goodman Chair Dr. Isiah Lavender III, Barbara Methvin Professor Dr. John Lowe, and the Willson Center for Humanities and the Arts.