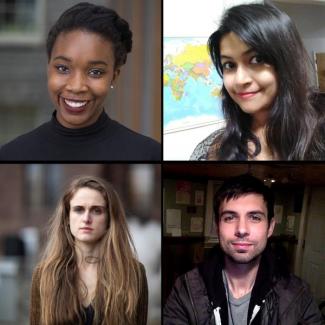 Zoom
The Creative Writing Program is thrilled to present a reading by two current Ph.D. students and two alumni of the program.  Current students Nneoma Ike-Njoku and Sayantika Mandal joined the Ph.D. program in fall 2020 and alumni Claire Cronin and Jake Syersak graduated in 2019.  This event will take place over Zoom on March 25th at 7 p.m.  Click here to access the event.
More about the readers:
Nneoma Ike-Njoku is a doctoral student in English & Creative Writing at UGA. She received her MFA in fiction from Cornell University. Her work has been published in Winter Tangerine, Transition 119, and elsewhere.
Sayantika Mandal is an Indian writer. She completed her MFA in Writing (Fiction) from the University of San Francisco where she was awarded the Jan Zivic Fellowship. Her writing has appeared in Indian Literature, The Citron Review,  Cerebration, Feminism in India, Times of India (Spellbound edition), and others. She is currently working on her first novel, Driftwood.
Claire Cronin is a writer and musician based in California. Her nonfiction book, Blue Light of the Screen: On Horror, Ghosts, and God, was published in October 2020 by Repeater Books. Cronin is also the author of the poetry chapbooks A Spirit is a Mood Without a Body (Salt Hill) and Therese (H_NGM_N). As a musician, she has released albums on independent labels and toured nationally.
Jake Syersak is a poet, translator, and editor living in Seattle, WA. He is the author of the recent poetry chapbook Vortex(t) (CoastNoCoast, 2020) and the full-length poetry collection Yield Architecture (Burnside Review Press, 2018). In 2021, Trembling Pillow Press will publish his newest full-length poetry collection, Mantic Compost. He is also the translator of several collections of poetry by Moroccan author Mohammed Khaïr-Eddine, including Proximal Morocco— (Ugly Duckling Presse, forthcoming 2023) and Resurrection of Wild Flowers (Oomph! Press, forthcoming 2021). With Pierre Joris, he cotranslated Khaïr-Eddine's hybrid novel Agadir (Lavender Ink/Diálogos Press, 2020). He and Paul Cunningham currently coedit Radioactive Cloud, a micro-press.