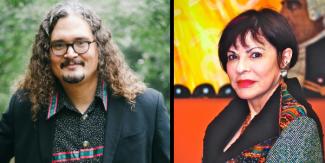 ZOOM
University of Oklahoma Professor Joshua Nelson and University of Georgia Professor LeAnne Howe present about how Sequoyah's life of many journeys inspired their film, Searching for Sequoyah, to be released on PBS stations in early November, as well as their ongoing research.  
Presidential Professor Joshua Nelson is Associate Professor of English and affiliated faculty with Film & Media Studies, Native American Studies, and Women's & Gender Studies at the University of Oklahoma. He is Lead Organizer of the Native Crossroads Film Festival & Symposium, and Co-Producer and Interviewer on the forthcoming PBS documentary Searching for Sequoyah, directed by James Fortier and produced by LeAnne Howe. He will direct the documentary The Trail of the Thunderbirds on the 45h Infantry Division during World War II, and he is at work on a monograph about representations of the body in Indigenous film. The University of Oklahoma Press published his book Progressive Traditions: Identity in Cherokee Literature and Culture in 2014.  
LeAnne Howe, an enrolled member of the Choctaw Nation of Oklahoma, is a poet, novelist, playwright, filmmaker, and Professor. Professor Howe was born and raised in Oklahoma, and since 2014 she has been the Eidson Distinguished Professor of American Literature in English at the University of Georgia. Her latest documentary film, Searching for Sequoyah, is produced with James M. Fortier and will air in November 2021 on PBS affiliated stations across the United States. The film is the culmination of a five-year journey across the U.S. and into Mexico, following in the footsteps of Sequoyah, the inventor of the Cherokee Syllabary. Her 2020 books include Famine Pots: The Choctaw Irish Gift Exchange 1847-Present, published by Michigan State University Press and co-edited with Irish scholar, Padraig Kirwan; and, When The Light of The World Was Subdued, Our Songs Came Through: A Norton Anthology of Native Nations Poetry, co-edited by U.S. Poet Laureate Joy Harjo, Howe, and Jennifer Elise Foerster. She is currently at work on 1918, a hybrid of poetry and memoir, set in Stonewall, Oklahoma, about her grandmother's costly survival of the flu pandemic.