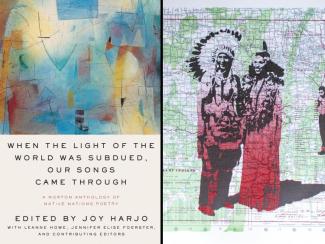 Georgia Museum of Art, 90 Carlton Street, Athens, Georgia 30602
This event celebrates a partnership between the museum and the department of English at UGA, centered on the exhibition "Collective Impressions: Modern Native American Printmakers." Jeffrey Richmond-Moll, curator of American art, will present an overview of the show, followed by a roundtable conversation about Indigenous poetry and artmaking with LeAnne Howe (Choctaw), Eidson Distinguished Professor in American Literature, and Christine Lasek-White, assistant director of creative writing. In spring 2021, Howe and Lasek-White worked with UGA graduate students to produce recordings of Native poetry published in the Norton Anthology of Native Nations Poetry When the Light of the World Was Subdued, Our Songs Came Through (2020), which Howe edited with Joy Harjo (Muscogee) and Jennifer Elise Forester (Muscogee). These recordings complement prints in the "Collection Impressions" exhibition, and visitors can listen to the poems while inside the gallery.
This program is supported by the Willson Center for Humanities and Arts.