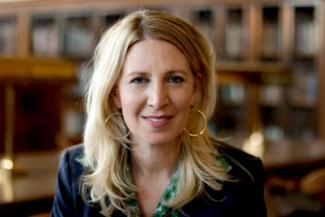 Park Hall 265
Special Information:
Institute for African American Studies, Office of Research, Willson Center for Humanities and Arts
Florence Dore, professor of English and comparative literature at the University of North Carolina–Chapel Hill, will give a talk on "Modernism's Vernacular: Zora Neale Hurston, Folk Music, and the High Literary." The event is sponsored by the Willson Center for Humanities and Arts, the department of English, the Barbara Methvin Chair in English, and the Institute for African American Studies. Dore's visit will also include a workshop with students at Clarke Central High School and a musical performance at Hendershot's.
In 1934, the African American folksinger Huddie Ledbetter, a convicted murderer known as Lead Belly, made an astonishing appearance as the "Negro minstrel from Louisiana" at the largest gathering of literature scholars in the world—the annual meetings of the Modern Language Association. In the same decade, the novelist and ethnographer Zora Neale Hurston journeyed into rural locations in Florida to collect African American folk ballads, making recordings of herself singing them to be filed away at the Library of Congress. Lead Belly's MLA performance took place as part of a panel called "Popular Literature"; Hurston recorded those tunes as she finished her groundbreaking novel Their Eyes Were Watching God (1937). Twenty years later, William Faulkner saw fit to portray Father of the Blues W. C. Handy as a character in his novel The Town, depicting Handy as playing his song, "The Memphis Blues," for white characters dancing at a cotillion in Memphis. How shall we read these instances of exchange between literature and vernacular music in the 1930s? Was there something about the folk music of the era that drew in purveyors of the literary? At a moment, moreover, when "high" literature was coming to be understood as a haven from technological arts, how did vernacular music, newly accessible on crackly shellac 78s and buzzy radio, make the cut as literature? In key readings of The Town and Their Eyes Were Watching God, I will show that the blues and American modernism evolved as intertwining forms. The indelible imprint on American modernism of vernacular forms associating literature itself, normally understood as emerging from Vanderbilt University in Nashville, with Memphis.
Dore is a public intellectual. She earned her doctorate at UC Berkeley in 1999 and released her first album, Perfect City (Slewfoot Records 2001), two years later. After a couple of other academic posts, Dore joined the faculty at UNC–Chapel Hill in 2010. She is a singer/songwriter as well as an academic whose published works focus on the blues, rock, race in popular music, and other topics. She is the author of Novel Sounds: Southern Fiction in the Age of Rock and Roll (Columbia University Press 2018) and the editor of The Ink in the Grooves: Conversations on Literature and Rock n Roll (Cornell University Press), which comes out October 15, 2022. At UNC she teaches in both the creative writing and literature programs. She has held fellowships at New York University, the National Humanities Center, and the Institute for Arts and Humanities at UNC. A member of the Steering Committee for Post45, a collective of scholars working on American Literature and Culture since 1945, Dore was also a founding co-editor for the Post45 Book Series at Stanford University Press. During the pandemic, she created and acted as co-executive producer for Cover Charge: NC Musicians Go Under Cover to Benefit Cat's Cradle, a benefit compilation record that came in #1 in compilations on the Billboard charts. She has organized two public conferences on rock and literature, in 2017 at the National Humanities Center with Carolina Performing Arts and at the Rock and Roll Hall of Fame in 2011. She sits on the advisory board for the Institute for Bob Dylan Studies at the University of Tulsa's Bob Dylan Archive. Her second album, Highways and Rocketships (Propeller Sound Recordings)—just out in June 2022—was produced by Don Dixon and Mitch Easter and features members of the legendary dB's, Son Volt, and Steve Earle's band. She is currently touring on both Highways and Rocketships and The Ink in the Grooves as part of her traveling public humanities program, called "Ink in the Grooves Live."