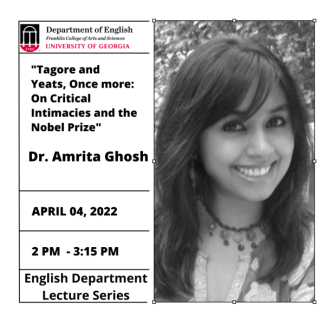 Zoom
Dr. Amrita Ghosh, a research fellow at the South Asia Center at Lund University in Sweden, will speak as part of the English Department Lecture Series.  Her talk, titled "Tagore and Yeats, Once More: On Critical Intimacies and the Nobel Prize," will take place over Zoom on Monday, April 4th at 2 p.m.
Dr. Ghosh is a research fellow at South Asia Center, Lund University, Sweden, working on "fault lines" of South Asia in which she studies cultural and literary productions from borderlands of South Asia, and the conflict zone of Kashmir. Dr. Ghosh has been a full-time lecturer at Seton Hall University in New Jersey and is a visiting lecturer at Linnaeus University in Sweden. She is finishing a monograph on Kashmir titled, Kashmir's Necropolis: New Literature and Visual Texts and the editor of Tagore and Yeats: A Postcolonial Re-envisioning, coming out in May 2022 with Brill in Netherlands. 
Dr. Ghosh's talk is divided into two parts: The first part interrogates the structures of friendship and colonialism that frame the "critical intimacy" (Mieke Bal) between two Nobel Prize-Winning writers : W.B. Yeats and Rabindranath Tagore. The second part is a comparative study of a seemingly ignored area of study--visual arts by Yeats and Tagore, and their innovative modernisms. If Tagore's art invites us to rethink modernism in a more grotesque postcolonial understanding, Yeats's relationship and collaboration with Japanese dancer Michio Ito constructs spaces of alterity to create new belongings within 20th-century modernisms. Dr. Ghosh intends to situate newer intersections and understandings of 'reading' representations, modernisms for two of the renowned literary figures, Tagore and Yeats.