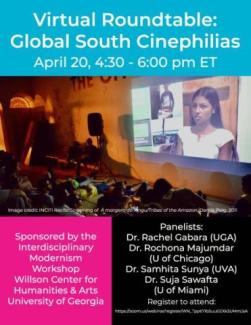 Zoom
The idea of cinema as an art is one born of cinephilia. While the term simply means "love of cinema," cinephilia sets itself apart from the average film fan's love of stars, spectacle, and popular genres, seeking out more challenging and complex pleasures.
Like the art cinema it promotes, cinephilia has long been viewed as a mostly Euro-American phenomenon, a perception that has obscured rich traditions of film appreciation in Africa, Asia, and Latin America and the innovative films they have generated. This virtual roundtable on Global South cinephilias illuminates these fascinating and little-known film cultures.
Panelists: Rachel Gabara (UGA), Rochona Majumdar (University of Chicago), Suja Sawafta (University of Miami), and Samhita Sunya (University of Virginia). Moderator: Rielle Navitski (University of Georgia).
Sponsored by the Willson Center for Humanities & Arts' Interdisciplinary Modernism Workshop.
Register in advance at the following link: https://zoom.us/webinar/register/WN_Tppti7IbSuuEEXk3UMmJsA