By Paul Cunningham and Cynthia Camp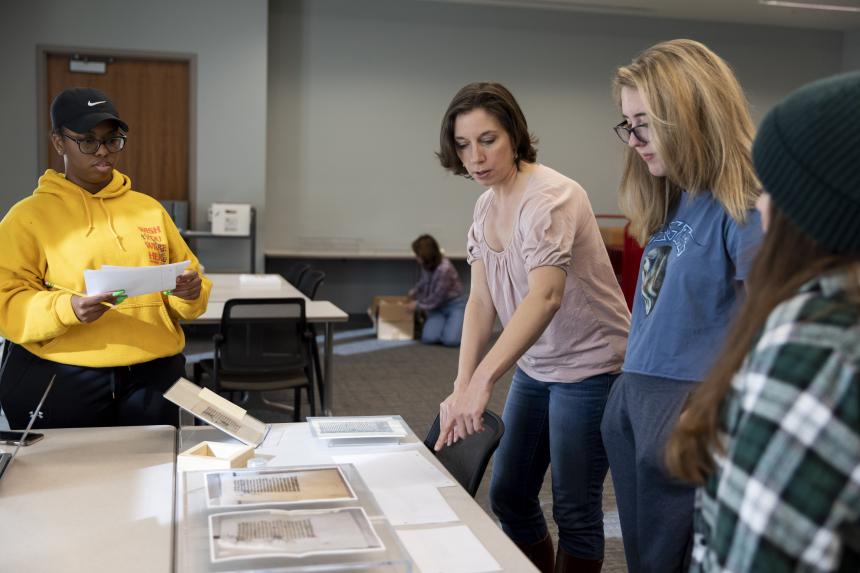 Dr. Cynthia Turner Camp's courses on medieval manuscripts are not your standard English classes. Instead of reading novels, undergraduates work hands-on with ancient tomes, unlocking the secrets of books made entirely by hand. In these classes, the Special Collections Library becomes a humanities "lab" where students and professor collaborate on challenging research projects that continue from one semester to the next. One series of classes investigates the mystery of a medieval prayerbook, the Hargrett Hours, while another studies the way medieval inks and pigments were made. By looking at the physical makeup of books, as well as the words they contain, students get to know these aged volumes intimately. And by examining books no one else has studied, they also undertake original research into these beautiful objects.
This past spring, the Special Collections Library installed an exhibit, The Hargrett Hours: Exploring Medieval Manuscripts. Designed by English major and alumna Georgia Earley with the help of Dr. Camp and Jan Hebbard, Exhibition Coordinator, the August 2021 exhibit showcased the medieval books and individual leaves owned by UGA. It also highlighted the discoveries students had made about these manuscripts, as well as the ongoing student projects undertaken in these courses. Those projects are now online, so you can explore them from home: an online facsimile and edition of the Hargrett Hours and a course blog presenting student work.
This collaboratively designed exhibit, and the student work it showcased, demonstrates how a classroom can become a space where professors and students can generate knowledge collectively. Working in a humanities lab, students can have intense, fulfilling experiences of applied research, shared endeavor, and hands-on learning — and in Dr. Camp's classes, they gain this experience by exploring books older than the nation itself.
Paul Cunningham is a creative writing graduate student.