Image: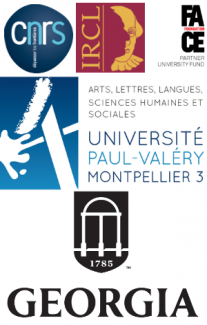 UPDATE: Registration for the upcoming "Bedchamber Scenes/Scènes de lit" symposium (12-13 April) is now available. All events are free and open to the public, but preregistration is requested.
* * *
Dr Sujata Iyengar of the University of Georgia (UGA) and Professor Nathalie Vienne-Guerrin of the Université Paul-Valéry Montpellier 3 (UPVM) are delighted to announce their new collaboration, "Scene-Stealing/Ravir la scène," sponsored by UGA, UPVM, and the French American Cultural Exchange (FACE) Foundation through the Partner University Fund (administered through the French Embassy).
The three-year cost-sharing grant from the Partner University Fund will encourage knowledge-exchange and collaboration among faculty and PhD students at UGA and UPVM by subsidizing a series of conference-festivals, symposia, and workshops. These gatherings will include the conference-festival "Balcony Scenes/Scènes de Balcon" at UPVM in November 2016; the symposium "Bedchamber Scenes/Scènes de lit" at UGA in April 2017; and workshops and a conference-festival on "Scenes in the Other's Language/Scènes dans la langue de l'autre" at both UPVM and UGA in April 2017, November 2018, and April 2019. Selected proceedings will be eligible for peer-review and publication in the open-access, online, multimedia journal Scene Focus/Arrêt sur Scène.
"Scene-stealing/Ravir la Scène" builds on existing strengths at both institutions: the study of English and French Renaissance and Enlightenment Drama through UPVM's project "Scene Focus/Arrêt sur Scène" (funded by France's IRCL), and of Shakespearean adaptation, particularly through the UGA-faculty-founded and run online scholarly periodical Borrowers and Lenders: The Journal of Shakespeare and Appropriation. The grant also funds faculty at both partner institutions to collaborate and develop a set of online open-access graduate modules, with the goal of broadening and internationalizing graduate curricula.
The fund's external peer-reviewers, from France and the United States, commented that the project leaders "accomplished and productive scholars and senior members of their faculty[,]…have worked extensively and successfully in the area of the proposed project," and they further praised the project's "academic goals (contribution to our knowledge and understanding of theatrical history and theatrical practice), the cross-cultural opportunities it will provide to its participants and […] its efforts to engage members of each local community in its work." They added, "[T]he cross cultural dimension of the project might very well provide a model for scholars in such other academic disciplines as history and art to explore how culture affects interpretation."