Image: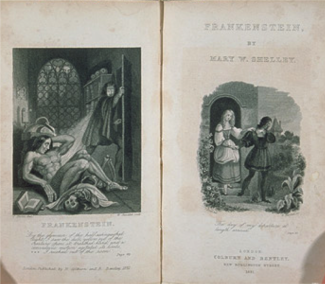 To celebrate the 200th anniversary of the publication of Mary Shelley's Frankenstein, the Georgia Colloquium in Eighteenth- and Nineteenth-Century British Literature is collaborating with UGA Libraries, the Department of Theatre and Film, the Willson Center for Humanities and Arts, and the department's own Undergraduate English Association to offer a host of Frankenstein related activities in the month of October. The Frankenreads events are part of an international celebration organized by the Keats-Shelley Association of America with support from the National Endowment for the Humanities.
UGA's celebration of Frankenstein at 200 begins on Friday, October 19th, when the Willson Center for Humanities and Arts, in collaboration with Dr. Richard Neupert (Charles H. Wheatley Professor of the Arts, UGA Department of Theatre and Film Studies), presents a Cinema Roundtable entitled "Mary Shelley, Frankenstein, and Cinematic Adaptations."
On Halloween, Wednesday October 31st our Frankenread will begin in UGA's Main Library at 8am and continue until 6pm. In the spirit of the novel's multiple voices, readers will be drawn from across the campus and the larger Athens community. The Frankenread will be accompanied by a slideshow of images drawn from popular culture and curated by Dr. Christopher Pizzino (UGA English). The final 30 minutes of our epic reading will take place at Ciné, Athens's local independent movie theater, and just prior to a free screening of The Bride of Frankenstein (1935). Although literary costumes are optional, you're encouraged to "trick or treat" with us; we'll provide the popcorn and candy!
In addition to this epic "read-a-thon," the library will host a movie marathon throughout the day in Lab A of the Main Library. There will be free popcorn and the opportunity to make your own Frankenstein memorabilia. 
In the days just prior to the reading, the Undergraduate English Association will be hosting a trivia contest and a book giveaway in Park Hall and the Main Library. Books have been donated by English Department faculty and students, and by Broadview Press. All books will be copies of Frankenstein, or Frankenstein-inspired. During the entire month of October, the Main Library will present curated exhibits of Frankenstein texts and related materials. Making a Monster: A Writer's Inspiration, is currently on display in the Special Collections Library's Hargrett Signature Gallery, as part of the History of the Book exhibit.