By Summer Porter
As a writer, I struggle with simply beginning, with letting myself focus on my writing only. Thoughts of other assignments or my job or all of my chores left to do nip at my attention constantly. The idea of a writing retreat, then, appealed to me: four hours set aside for writing only.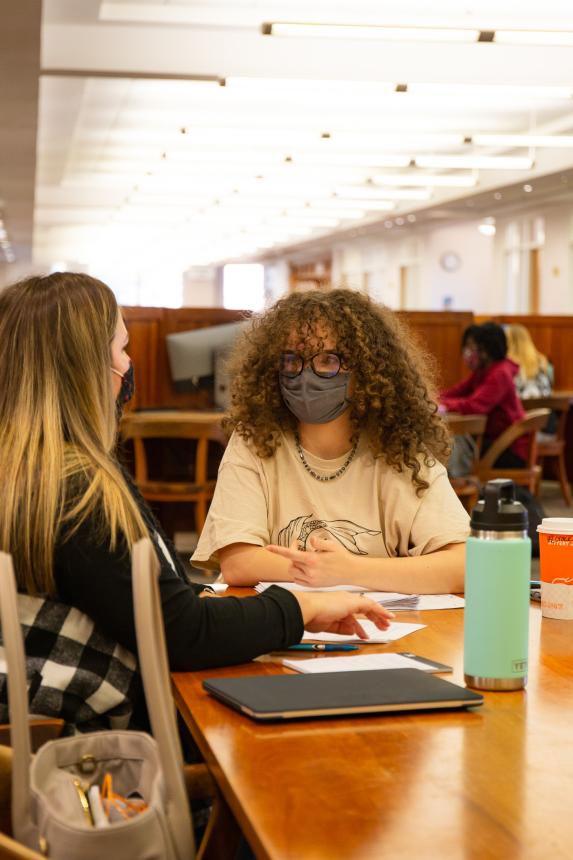 Personally, environment is important to my writing mindset, so I appreciated the cozy setting of the MLC Reading Room. There were plenty of spaces for attendees to independently settle into working, and the room was kept comfortably quiet, even with one-on-one conferences taking place. Plenty of coffee (cue my excitement), water, chips, and platters of bread and cheese, fruits, and vegetables for participants to snack on at their leisure were set at the front of the room. The room was truly designed to keep people energized and focused.
Before the workshop, I signed up for a one-on-one conference to discuss one of the creative nonfiction pieces I'm preparing to submit to literary magazines, so I met with graduate student Annelise Norman half an hour into my time at the retreat. She began with asking what I personally want to gain from our conversation, and we workshopped from there, ending with a lovely list of ideas for bettering my piece. The writing support staff also were available for drop-in consultations for anyone who found themselves wanting help during the retreat.
Throughout the retreat, two graduate students also alternated hosting a schedule of topic-specific, thirty-minute workshops. I attended the "Process and Revision: Humanities" and "Applications and Professional Writing" sessions, both hosted by PhD candidate James Kliewer. Each time, he gave us a sheet outlining his key points of discussion and particular points of advice, but the conversations were primarily student-driven. He genuinely wanted to cover what we had questions about. After the last session, he connected me with his fellow PhD candidate Kara Krewer, who then spoke for a while with me about writer's conferences and graduate studies for English majors.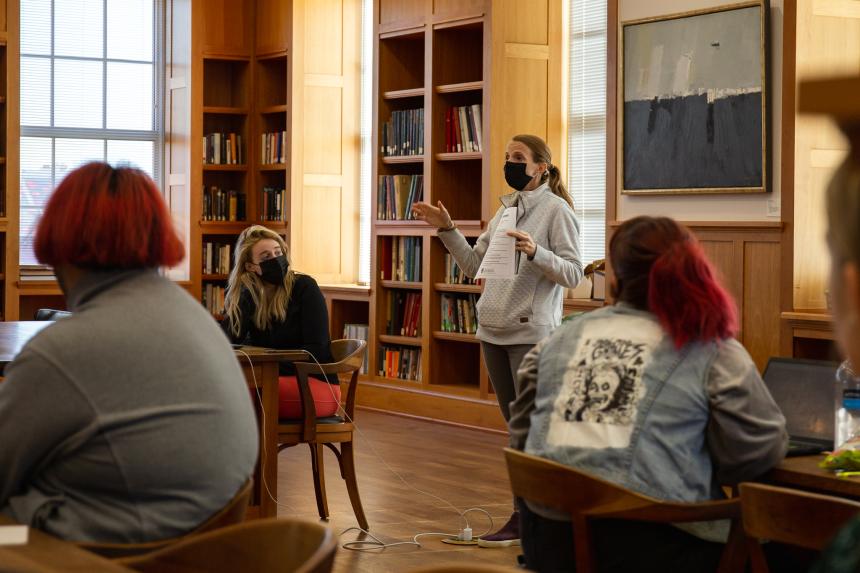 In-between the conferences and workshops, I simply sat with my desserts and coffee and peacefully revised my work. I genuinely wanted the conference to go on longer as the end approached, and several of us stayed to work in the room after the official 5 PM end time. I'm advocating for the workshops to take place more frequently, and I encourage any undergraduate writers to give one a try. Come to ask questions, drink coffee, and, most importantly, write.
Summer Porter is an English and EMST double major and a social media intern for the UGA English Department.