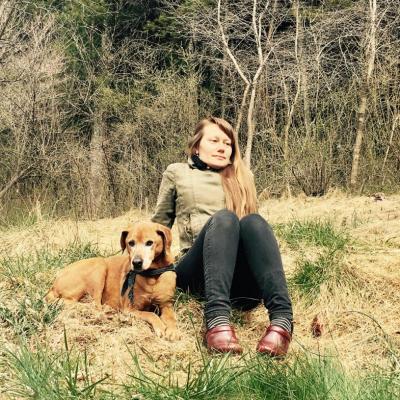 Graduate Teaching Assistant
Contact Info
Holly Haworth's essays, reporting, and poetry appear in The New York Times Magazine, Orion magazine, Oxford American, Terrain.org, Virginia Quarterly Review, Lapham's Quarterly and at the On Being radio program blog. Her work has received several Pushcart Prize nominations. It has been listed as notable in The Best American Travel Writing and is forthcoming in The Best American Science and Nature Writing. 
Before coming to UGA, Holly was a childhood educator at a contemplative, progressive school in Floyd, Virginia. She has worked for the Center for Biological Diversity on an endangered wolf reintroduction in the Gila National Forest and taught environmental education in conjunction with the Mescalero Apache Reservation. For two years she was editor-in-chief of a newspaper covering mountaintop removal issues in Appalachia. She was the 2015 Artist-in-Residence at the Guadalupe Mountains National Park. She has worked on the editorial staff of many magazines, journals, and newspapers. In 2012, she received the Middlebury Fellowship in Environmental Journalism. 
Holly earned a Southern Appalachian Naturalist certificate at the Great Smoky Mountains Institute. She has been a practicing herbalist and has taught fermentation workshops for many years. 
Her hound dog's name is Banjo. 
Education:
MFA in Creative Writing, Hollins University, 2015
Southern Appalachian Naturalist Certificate, Great Smoky Mountains Institute, 2015
B.A. in English (rhetoric and writing), University of Tennessee, 2005
Of note:
Best American Science & Nature Writing • essay in forthcoming 2019 anthology
Pushcart Prize nomination from Terrain.org  • 2017
Best American Travel Writing • notable essay  • 2017
Guadalupe Mountains National Park Artist-in-Residence • Summer 2015
Pushcart Prize nomination from Still: The Journal  • 2015
Jackson Fellowship in Creative Writing • Hollins University • 2013
Fellowship in Environmental Journalism  • Middlebury College • 2011
Thomas J. Lyons Fellowship • Western Literature Association • 2009
Russell Fellowship • Utah State University • 2009