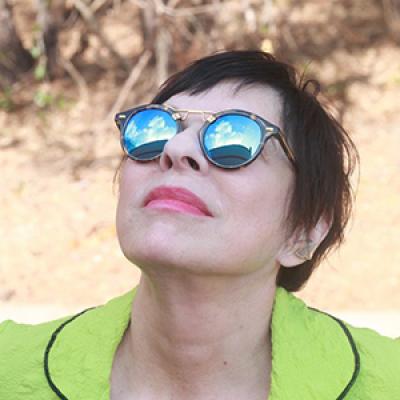 Eidson Distinguished Professor in American Literature
LeAnne Howe, Eidson Distinguished Professor at the University of Georgia, connects literature, Indigenous knowledge, Native histories, and expressive cultures in her work. Her interests include Native and indigenous literatures, performance studies, film, and Indigeneity.
Howe's newest book Savage Conversations, 2019, Coffee House Press, set in 1875, concerns Mary Todd Lincoln and the Savage Indian she said tortured her nightly during her confinement in an insane asylum at Batavia, Illinois.  Other recent publications include, "On Lubnaan With Paula Gunn Allen," in Weaving The Legacy: Remembering Paula Gunn Allen, Sellers and Case, West End Press, 2017; "Gatorland" in Bullets Into Bells: Poets & Citizens Respond to Gun Violence in the U.S., Clements, Teague, and Rader, Beacon Press, 2017; and, "Imagine There's No Cowboy: It's Easy If You Try," in Branding the American West, Wardle and Boehme, 2016, Oklahoma. 
She is currently at work on a new film documentary Searching for Sequoyah about the life and disappearance of Sequoyah, creator of the Cherokee syllabary in 1841; co-producer James M. Fortier.  See searchingforsequoyah.com. 
Professor Howe (Choctaw) is the recipient of a United States Artists (USA) Ford Fellow, Lifetime Achievement Award by the Native Writers' Circle of the Americas, American Book Award, Oklahoma Book Award, and she was a Fulbright Distinguished Scholar to Jordan.  Recently in October 2015, Howe received the Distinguished Achievement Award from the Western Literature Association, (WLA); and in 2014 she received the Modern Languages Association inaugural Prize for Studies in Native American Literatures, Cultures, and Languages for Choctalking on Other Realities. She received an MFA from Vermont College of Norwich University, (2000) and shares a Native and Indigenous Studies Association (NAISA) award for literary criticism with eleven other scholars for Reasoning Together: The Native Critics Collective, named one of the ten most influential books of the first decade of the twenty-first century for indigenous scholarship, 2011. She's lectured nationally and internationally giving the Richard Hoggart Series lecture at Goldsmiths, University of London, UK, 2011, and the Keynes Lecture at the University of Kent, Canterbury, UK, 2013, among others. In 1993 she lectured throughout Japan as an American Indian representative during the United Nations "International Year of Indigenous People."
Her books include, Shell Shaker, 2001, Evidence of Red, 2005, Miko Kings: An Indian Baseball Story, 2007, Choctalking on Other Realities, 2013. She co-edited a book of essays on Native films with Harvey Markowitz, and Denise K. Cummings titled, Seeing Red, Pixeled Skins: American Indians and Film, 2013. A special issue of Studies of American Indian Literature, SAIL, Vol. 26, Number 2, Summer 2014, is an exploration by six scholars on Howe's literary concept of Tribalography.
Links to recent work: https://soundcloud.com/about-south/s01-episode-06-its-about-story
http://muse.jhu.edu/journals/studies_in_american_indian_literatures/
Video:  Why I Write  Noble Savage Learns to Tweet
"Aunt Lute Books" http://auntlute.com/
"United States Artists Fellows 2012," http://www.usafellows.org/
and Superstition Review's interview http://superstitionreview.asu.edu/issue12/interviews/leannehowe
NB:  Professor Howe's courses are listed under the name "Izola Wilson" in Athena.
Selected Publications