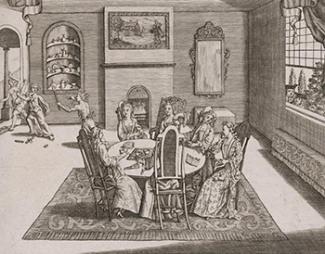 Richard B. Russell Special Collections Libraries Building, Room 277
As part of the Spring 2020 Symposium on the Book, the Department of English presents an archival research roundtable on 17th and 18th century studies, featuring UGA graduate students and recent graduates. Each scholar will discuss their use of material culture and archival materials in their research. Featuring: Courtney Hoffman (Georgia Tech, English), Elizabeth Kennison (History), Sarah Mayo (English), Alicia Wies (English).
This Roundtable discussion will be followed by a lecture by Dr. Julie Park: Monday, March 2, 2020 @ 4:00pm "Making Paper Windows to the Past: Eighteenth-Century Extra-Illustration and the Art of Writing"
This event has been sponsored by the Department of English, the Willson Center for Humanities and Arts, and the University of Georgia Libraries.