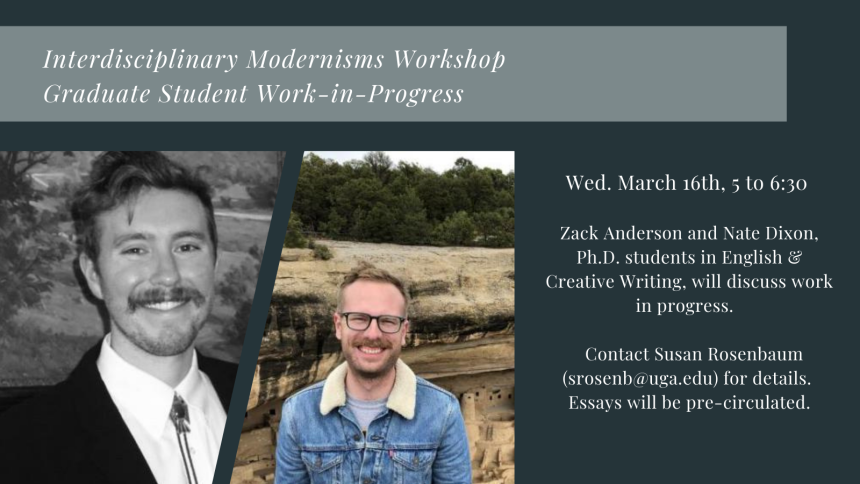 Zack Anderson and Nate Dixon presented an interdisciplinary modernism workshop on March 16th. Anderson also presented the paper "Entering the Valley of Dreams: View-Master, Souvenir, Imperial Kitsch" at the Louisville Conference on Literature and Culture Since 1900. He passed his comprehensive exams in April. His review of Molly McGlennen's poetry collection Our Bearings is forthcoming in Transmotion.
This semester, Emily Beckwith received an Outstanding Teaching Assistant Award from UGA's Center for Teaching and Learning. She also received a summer research grant from the Graduate School, which she'll use to support her dissertation research by subscribing to the British Newspaper Archive. She is looking forward to her first in-person conference in two years at the British Women Writers Conference in Waco, TX. She'll be presenting part of a dissertation chapter: "Wales in Law, Literature, and Empire: Reading Monmouthshire in The Woman of Colour."
Maxime Berclaz took part in 1 Student + 1 Alumnus: A Creative Writing Program Reading on March 24th.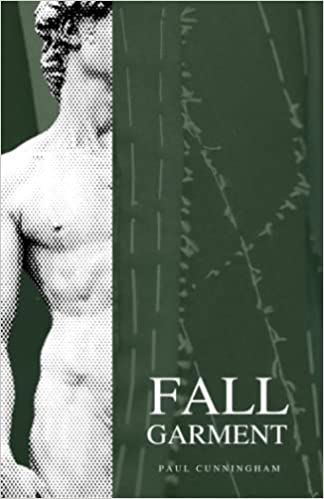 Chelsea Cobb published a nonfiction piece, "Birds of a Feather," in the Agnes Scott Writer's Festival. She also published another nonfiction piece, "Bones," in Rappahannock Review. Two fiction pieces, "Autobiography of a Bedsheet" and "An Occurrence at Texas State Penitentiary" were published in The Spectacle and Gulf Stream Magazine.
Paul Cunningham published the poetry collection Fall Garment with Schism. 
Morgan Richardson Dietz's article "'So Cute, I Could Eat Him Up': Maternal Hungers in Monica Ali's Brick Lane" will appear in a forthcoming issue of Studies in the Novel. Her review of Dastarkhwan: Food Writing from Muslim South Asia, edited by Claire Chambers, appeared in Postcolonial Interventions in June 2021. In Spring 2022, she presented at the Northeast Modern Language Association Conference, College English Association Conference, and British Commonwealth and Postcolonial Studies Conference.
Under their pen name, Genevieve Guzmán won a jury award in the Sustainable UGA Earth Day art challenge on the theme of pollination for their poem "Original Bliss," an ode to the harmony of a fruitful garden.
When I come upon you

waiting in the garden, iris

eyed and berry mouthed,

laureled in ringlets

to your shoulders, regal

as you juice a lemon for tea

and butter scones, lift

the cream and tang to my lips

to taste the afternoon, oh,

what sweetness to kiss you

a hundred times anew, fair

maiden of the Eden Valley!

From "Original Bliss" by Genevieve Guzmán
This past spring Savannah Jensen presented at four conferences: SWCA, The New College Conference, 4C's, and SAA. She was generously awarded money from the Early Modern Research cluster as a part of the Mellon Global Georgia Initiative funded by the Mellon Foundation to help fund her travel expenses. She was also awarded the Graduate School's Summer Doctoral Research Assistantship. In addition to research, Jensen has been a part of the Center for Teaching and Learning's Future Faculty Fellowship, served on the FYW committee, and served as a copyeditor for The Classic Journal.
Jacqueline Kari's mytho-pastoral poem, "Pricarius Hysteresis," won the 2022 Diann Blakely award, judged by Dan Rosenberg, who called it a poem of "surprising urgency, clawing at the doorway of understanding." An essay on disabling the corpus through poetics and the em-dash, "How--Dashing--", was published in the most recent edition of Annulet: a Journal of Poetics.
This semester, Gabrielle Stecher and Annelise Norman renovated and redesigned the main Writing Center location, Park Hall 66. When they weren't painting and carpeting the Writing Center, the dynamic duo presented at the Conference on College Composition and Communication and the University of Florida Writing Program's Conference on Pedagogy, Practice and Philosophy. In Fort Myers, Florida, the two were joined by alumnae Renee Buesking (UGA '20) and Danielle Gilman (UGA '20) at the Southeastern Society for Eighteenth-Century Studies' annual meeting, where they presented on teaching eighteenth-century literature. Annelise and Gabrielle have a forthcoming contribution to the Keats-Shelley Association and Romantic Circles' Towards an Anti-Racist Pedagogy resource. Their publication is titled "Women of Colour: Using Corpus Analysis for Introducing Representations of Race in Nineteenth-Century Fiction." Additionally, Annelise attended the National Humanities Center's Virtual Podcasting Institute, and Gabrielle was the recipient of the Graduate School's Excellence in Teaching Award. Last but not least, they successfully defended their dissertations, which they celebrated with Journey and Toto at the State Farm Arena.

Kaitlin Thurlow reviewed Bohemian Belfast and Dublin: Two Artistic and Literary Worlds in the Work of Gerard Keenan by James Gallacher for the March 2022 issue of Estudios Irlandeses: Spanish Journal of Irish Studies. Her essay "Sean Scully: Painting a Global Immigrant's Vision" appears in the anthology Art History at the Crossroads of Ireland and the United States published in May 2022 by Routledge.

During the spring '22 semester, Hannah V Warren published the poetry chapbook Southern Gothic Corpse Machine with Carrion Bloom Books. Additionally, her poetry appeared in Gulf Coast and on the Action Books Blog, and her work is forthcoming in Copper Nickel, Pleiades, and Phoebe. As a Fulbright scholar, Warren will spend the next academic year in Freiburg, Germany, working on her dissertation, which centers on the aesthetics of Gothic monstrosity. Later this year, Warren's pedagogical essay, "Monster Theory in the Composition Classroom," will appear in the edited collection Creatures in the Classroom: Teaching Environmental Creature Features.
Christina Wood organized the English Department End of Year Party, sponsored by the Creative Writing Program.