ENGL 3850S: Writing and Community
This class will explore the relationship between writing and communities. Key questions this course will consider include: What is the role of writing and written texts in the formation and maintenance of communities? How do technologies and media affect communities and shape community writing and rhetorical practices? How can writers contribute to their communities in productive ways? For the service-learning component of this course, we will be working with one of UGA's Public Service and Outreach units, the Archway Partnership, to help a multi-county coalition develop written materials for the "Traditions Highway" project. The goal of the project is to promote travel along Georgia's Highway 15 corridor that runs the length of the state, and the texts we create for the project will be published in print and online! Develop your writing skills in the classroom community, and put those skills to work for our larger Georgia community. (*Course fulfills the Experiential Learning requirement.)
ENGL 4810: Literary Magazine Editing
Prof. Barbara McCaskill, Tuesdays and Thursdays from 11:00 a.m. to 12:15 p.m.
This class will provide you with hands-on, applied opportunities to sharpen your writing and editing skills by composing and submitting both online and print publications. In this experiential learning, workshop style course, you will have an opportunity to develop editorial skills--reading and critiquing texts, communicating with authors and editors, working collaboratively within groups, using new digital technologies--and to stay abreast of current trends in editing and publishing by working on specific projects that may be published by entities on and around campus. This is a class to consider taking if you are interested in a future that involves writing creatively and critically and working with publishers to make visible your work; becoming a member of and working in some capacity on a book, journal, or magazine team; and staying abreast of ways in which you can use digital and visual technologies in conjunction with text to present information.
English at UGA
The English Department at the University of Georgia is a diverse scholarly community of more than 40 faculty, 100 graduate students, and more than 600 undergraduate majors and minors held together by a common commitment to preserving, transmitting, and extending the rich cultural legacy of the English language. At the core of our discipline lie the complex skills of reading and writing, and though these can be productively applied to a wide range of professional goals our own work as scholars and teachers strives to deepen our understanding of the critical and creative imagination. A sympathetic participation in the verbal worlds of other times and places, drawing on the full range of linguistic tools, historical knowledge, and interpretive experience at our disposal, allows our students to enhance their appreciation for expressive possibility. The diversity of the faculty's interests and research methods helps ensure that an English major at the University of Georgia develops a sophisticated, practical grasp of the central role that language plays in the preservation of human institutions.
ENGL 4884 : CONTEMPORARY AFRICAN AMERICAN WRITING
"Love'll Stunt Your Growth, Hate'll Make You Old" : PROF ED PAVLIC
This course will explore black voices, recent depictions of a wide variety of contemporary African American experience. We'll examine writing broadly reading between and across genre and form (novels, essays, non-fiction, poetry). We'll read and discuss a list of books written in the 21st century by writers.
AFAM/ENGL 4630 African American Fiction
TR 12:30-1:45 Dr. Ron Miller
ENGL4450/4461: The Global Eighteenth Century
Beth Tobin T/TH 3:30-4:45
We live in a world created by political, economic, and social forces unleashed in the eighteenth century. During this time period, the Americas, Africa, the Indian subcontinent, and the islands in the South Pacific were transformed by their encounter with European nations. This course will examine literature in English that grapples with Britain's imperial ambitions, specifically its investment in plantation slavery and the slave trade, its colonial presence in India, and its exploration of the South Pacific. Diverse eighteenth-century genres, including novels, poems, plays, travel narratives, memoirs, and essays—will be paired with a range of scholarly approaches to imperialism, cosmopolitanism, and exploration as we consider the circulation of people, commodities, and ideas across global trade routes. Eighteenth-century literature was shaped by and contributed to conceptions of race, gender, nation, place, democracy, tyranny, and global engagement, concepts that continue to impact our lives today.
English 3440: Literature and Philosophy
Spring 2017, 3:30 TTh, Dr. Kraft
What is the best way to live? How and why do we pursue happiness? How do literature and philosophy address these questions differently? How do they do so in conversation with one another? Our focus in this class will be on Ethics in literary works by authors such as Laurence Sterne, J.M. Coetzee, Leonard Cohen, Margaret Atwood, William Wycherley, and Aphra Behn and in philosophical works by authors including Kierkegaard, Emmanuel Levinas, Stanley Cavell, Martha Nussbaum, Judith Butler, and Eve Kosofsky Sedgwick. We will also view three films in pursuit of our topic: Stephen Spielberg's Schindler's List, a Hollywood comedy of remarriage, The Philadelphia Story, and a Hollywood melodrama of the unknown woman, Gaslight.
ENGL 4830: Advanced Studies in Writing
Nature Writing
In this course we will explore some basic questions: What is "nature"? What is "nature writing"?
And attempt to provide some answers:
Creating a dialogue between
Active and Imaginative Experience
Contemplative and Practical Experiencing
Reflecting on Literary Traditions and Scientific Disciplines
Building a context for self-discovery
Un-writing our conditioned responses to "Nature"
We write about Nature; with Nature; through Nature to find our way to Nature Writing.
ENGL 4698: James Joyce
A work of genius ... incredibly filthy ... truly magnificent ... the literature of the latrine ... Zolaesque ... an illiterate, underbred book ... literary Bolshevism... All of these terms were used by James Joyce's contemporaries to describe his novel Ulysses when it was published in 1922. Take this course and you will find out why.
Images: JJ Quarterly covers
ENGL 8900: Kenneth Burke and (Rhetoric after) Modernism
This seminar explores Burke's relation to modernism and New York's culture during the 1920s and 1930s, focusing on the development of his thought in relation to music, art and literature.
It also seeks to make connections among classical, Burkean, and contemporary (including post-human) rhetorics.
Open to all students with an interest in the topic(s); for additional information contact Christy Desmet, cdesmet@uga.edu
ENGL4350: Seventeenth-Century Poetry
Dr. Jacobson. T/Th 9:30am
The 17th century in Britain encompassed revolutionary cultural shifts, from advancements in biological sciences and medicine to a preoccupation with religious devotion and a fascination with death and the dying body. The politics of independence, disobedience and sovereignty were given voice during the English civil war, while at the same time, global exploration, trade, and conquest began to define Britain as an Empire. What emerged out of this chaos, conflict and change was poetry that grappled with new philosophies. We will enhance our readings of poetry (John Donne, Mary Wroth, George Herbert, Richard Crashaw, Andrew Marvell, John Milton, John Wilmot, Margaret Cavendish and more) with excerpts from Renaissance texts on natural science, medicine, exploration, philosophy, politics, and religion, interpret maps, paintings, book illustrations and engraved title pages, and consult critical essays on seventeenth-century culture. (Image: Georges de La Tour, The Penitent Magdalene, c. 1630-1632.)
ENGL 4820, Literary Theory
Dr. Ballif T/Th 2-3:15 pm
This course will investigate the principles and practices of contemporary literary criticism. We will focus our attention on several major approaches within modern and contemporary literary criticism and the theories that sustain them. Our examination of these various approaches will focus not only on understanding the methodologies of each—and the application of each, but also on identifying what is at stake in any given reading. That is, by inquiring into a text's meaning, we will interrogate the ways and means whereby the act of literary criticism reproduces and institutionalizes as well as challenges and transforms cultural values. We will explain what turtles have to do with any of this: so many turtles, so little time!
ENGL 4640: FILM AS LITERATURE
". . . BLACK SOUNDS MATTER": Black Music in Modern and Contemporary Cinema
This course surveys and explores the many roles that African American music has played in US and world cinema. We'll watch for the way the positioning of black music in films works formally within the works themselves but, we'll also look closely at the politics implied (or even confessed) by such positioning in its historical era.
Go to previous screen
Go to next screen
All Upcoming Events
Calendar
There are currently no events in the calendar. Please check back soon.
Head's Welcome
The annual commencement and awards ceremony of the Department of English is always an exhilarating experience. The happy faces of family members in attendance, along with the gratified countenances of the graduates and the award recipients, just seem to make everything glow. Not to mention the weather, perfect as usual in early May in Athens. Also perfect was our keynote speaker. The English department's class of 2016 was honored by the presence of alumnus Jack Bauerle, whose memories of Park Hall as an English major forty-some years ago were a vivid reminder of just how hallowed a place it is. Those in attendance were thrilled to share the memorable occasion with Coach Bauerle, who was head coach of the women's swim team at the 2008 Olympics and whose stewardship of the UGA swim team has netted many national and SEC championships, (As I write this he is at the swim trials in Omaha in preparation for the Olympics in Rio di Janeiro.) Thank you, Coach Bauerle, for inspiring our graduating class this year!
This year we have much to celebrate. For the second year in a row, an English professor was recipient of the Michael F. Adams Early-Career Scholarship Award. This year it was Cody Marrs. Ed Pavlic was recognized with the Christ-Janer Creative Research Award, the fourth time this has been granted to a faculty member from our department (out of fifteen total). Ed also entered the ranks of Distinguished Research Professor, one of the highest distinctions at the University of Georgia; he is its first recipient from our department in the long history of this award, which began in 1983. Dr. Pavlic has had a banner year. His poetry collection, Let's Let That Are Not Yet: Inferno was published as a winner of the National Poetry Series and on the scholarly front, his book Who Can Afford to Improvise? James Baldwin, Black Music, and the Listeners came out almost at the same time. As returning director of the Creative Writing Program, Ed's bifocal and multilateral interests and accomplishments are indicative of the ingredients that make our doctoral program in Creative Writing one of the top in the nation. Adding kudos to Creative Writing faculty, Magdalena Zurawski's book Companion Animal was recently awarded the Norman Farber First Book Award from the Poetry Society of America.
Another highlight of the commencement ceremony was the generosity of English alumnus Mary Hutcherson, whose H. Grady Hutcherson Memorial Scholarship Fund provided awards to four deserving undergraduates. With the decline of state funding for public universities in Georgia and across the country, the role played by the munificence of benefactors is more urgent—and appreciated—than ever. The Department of English thrives with the support of its various endowed professorships and other endowments. This year, for example, the British Women Writers Conference received support from the Lanier, the Sterling-Goodman, and the Eidson chairs.
On a concluding note, I want to salute another benefactor whose generosity will bring significant opportunities for students, faculty, and programs, both now and in the future. Mary Anne Hale has created the Paul Douglas (Doug) Hale Learning Enhancement Fund in memory of her husband. In recognition of this endowment, Park 265, the large lecture hall, will be named in commemoration of Doug Hale, who earned both a BA and MA in English and taught English literature in several colleges and universities before embarking on a stellar career in television and film. A loyal and consistent donor, Doug stayed in touch with his alma mater. A decade ago Doug returned to Park Hall on one of his annual trips here (he was a native Athenian) and gave a memorable talk in that very room, one soon to be named the Hale Lecture Hall. He was a raconteur who would have made Mark Twain proud, and he possessed an outsized curiosity about everything under the sun. It is always a pleasure to meet veterans of Park Hall, but Doug was one of a kind. Those of us who knew him will miss his wit, his appetite for life, and his booming voice, but thanks to Mary Anne Hale's generous memorial gift, he will continue to have a positive impact on the Department of English.
Jed Rasula
Department Head
For more, please read the latest version of the Park Hall Monitor, the department's newsletter.
Spotlight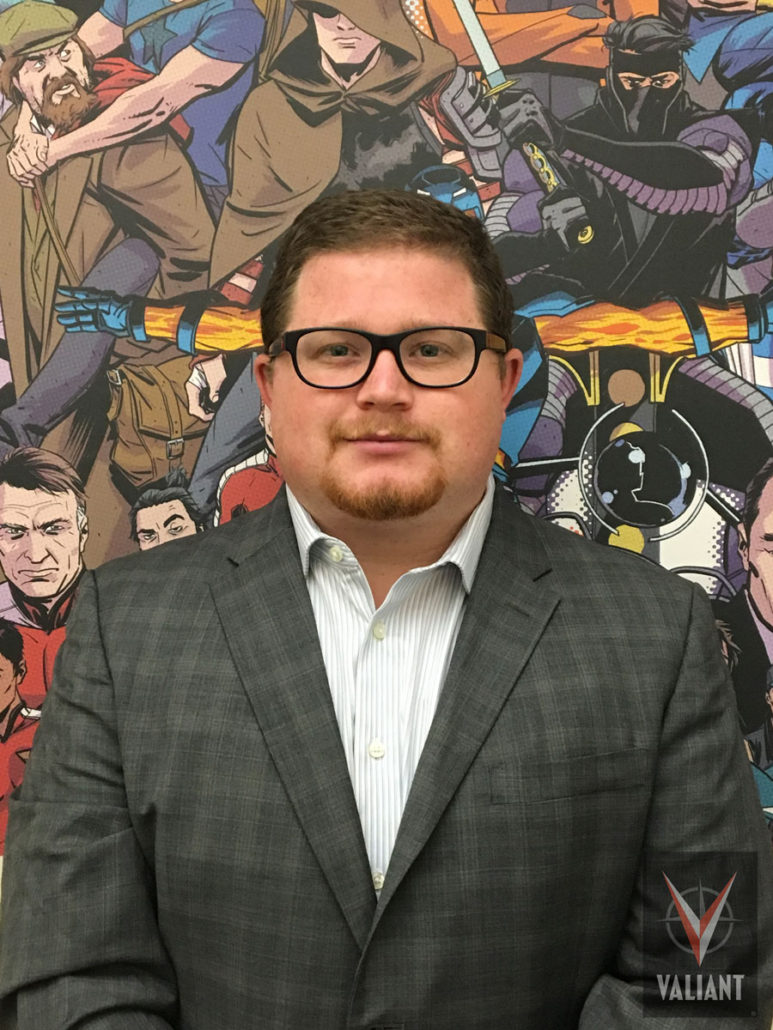 Bulldog in the Big Apple: Josh Johns (AB '11)
Through a combination of his serious dedication and the immense support from his professors at UGA, Josh Johns (AB '11) is living out his dream. After landing a highly sought-after editorial internship with Marvel Comics while in college and going on to become the director of digital media for comics company Valiant in Manhattan, Josh has seen his hard work pay off starting from his UGA days to today.
Early on, Johns realized he wanted to get into the comic book industry. He knew UGA would be a place where he could grow his abilities and was proved right through his positive experiences as an English major in the Franklin College of Arts and Sciences. The constant support from his professors led directly to a valuable internship and propelled him into career success post-college. Now, Johns lives in New York and cheers on the Dawgs from a UGA-themed bar that gives him a slice of Athens in the big city. In a conversation with Johns, he shares his story and dishes out meaningful advice for current students.
Read the complete interview. . .
Michael F. Adams Early Career Scholar Award 2016
Cody Marrs, assistant professor of English, is an accomplished junior scholar and author of the recently published book Nineteenth-Century American Literature and the Long Civil War. In it, Marrs analyzes the writings of four major authors—Frederick Douglass, Herman Melville, Walt Whitman and Emily Dickinson—whose careers spanned both sides of the conflict. He argues against the traditional division of 19th century literature into either antebellum or postbellum categories, describing these authors as "transbellum." Marrs is currently working on several related projects, including a second book titled The Civil War: A Literary History. This wide-ranging book is about the war's cultural afterlife, from the 19th century to the 21st. He is editing a special issue of Leviathan: A Journal of Melville Studies on Melville's late works. He is also co-editing Timelines of American Literature, a collection of essays that seek to reimagine American literature.
Tweets by @UGAEnglish